¡@
¡@
¡@
¡@
¡@
Golf Tips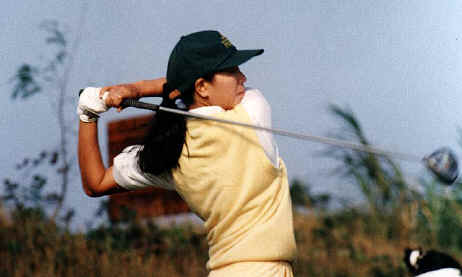 Guest Instructor : Ms Olivia Yu
Ms Olivia Yu is Hong Kong's top lady golfer. Crowned Miss Hong Kong in 1979, Olivia went on to forge a successful career in the entertainment business, appearing in numerous movies, TV series, TV variety shows alongside pop icon Alan Tam, Hollywood star Chow Yunn Fat, famous TV and movie star Nat Chan and Tsang Chi Wai to name a few.
She started playing golf about 8 years ago and got hooked instantly. Utilizing her excellent athletic talents (she once holds the HK ladies high jump record while in high school!), she made amazing progress in improving her game and had won various trophies of significance in the region. Read how she achieved being a 'scratch' golfer in her article, "From 40 to 0".
To get first-hand valuable tips from the one of the region's top lady golfer, click to see the lessons on the basics that Olivia has prepared for you. In future series, Olivia will explore more advanced topics as well as the mental aspects of playing golf.

Happy golfing!

¡@

¡@
¡@
¡@
¡@
¡@
¡@
¡@
¡@
¡@
¡@
¡@
¡@
¡@
¡@
¡@
¡@
¡@
¡@
¡@
¡@
¡@
¡@
¡@
¡@
¡@
¡@
¡@
¡@


Back to Home Page
Copyright (c) Golf222.com. All rights reserved. No part(s) of this information may be reproduced, stored in a retrieval system, or transmitted in any form or by any means - electronic, mechanical, photocopying, recording and otherwise - in whole or in part, without the express written permission of the copyright owner.