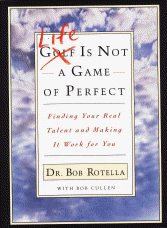 Life is Not a Game of Perfect
By Dr. Bob Rotella with Bob Cullen


Most people think talent is genetically determined. Either you can sing or you can't. You get calculus or it's beyond you. You have what it takes to succeed - or you don't.
The truth about human performance is far more encouraging, says Dr. Bob Rotella in Life is Not a Game of Perfect. Dr. Rotella believes that talent, as conventionally defined and measured. plays a secondary role in determining one's fate. Far more important is real talent, a combination of character, attitude and devotion, which makes greatness possible. And the good news is that anyone can develop real talent.


Back to Books Main Page¡@
Copyright (c) Golf222.com. All rights reserved. No part(s) of this information may be reproduced, stored in a retrieval system, or transmitted in any form or by any means - electronic, mechanical, photocopying, recording and otherwise - in whole or in part, without the express written permission of the copyright owner.