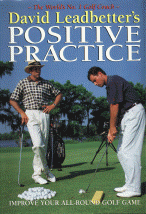 David Leadbetter's
Positive Practice
By David Leadbetter

David Leadbetter, the world's number one coach and best selling author, reveals how you can increase the effectiveness of time spent away from the golf course so that you can enhance your performance on it.
In Positive Practice, his absorbing look at the "game within a game" , Leadbetter underlines three key elements of practice: the pre-match warm-up session, the focused technical workout, and the mental preparation that enables a player to meet the challenges out on the course. Supported with a number of fascinating insight into the world of tournament golf, Leadbetter's teaching ideas provide a thoroughly professional approach to understanding which areas of your game require the most attention and explain how to develop a realistic practice schedule within limited time constraints.


Back to Books Main Page¡@
Copyright (c) Golf222.com. All rights reserved. No part(s) of this information may be reproduced, stored in a retrieval system, or transmitted in any form or by any means - electronic, mechanical, photocopying, recording and otherwise - in whole or in part, without the express written permission of the copyright owner.