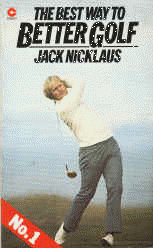 The Best Way to Better Golf
By Jack Nicklaus

The extraordinary value of the Jack Nicklaus 'BEST WAY' method of golf instruction lies in the unique action diagrams which illustrate his text. More accurate than photographs, more telling than a thousand words, the action diagram is designed to teach graphically the best way to make specific golf shots. For both the beginner and the advanced player this compact and knowledgeable book is without a doubt The Best Way to Better Golf.


Back to Books Main Page¡@
Copyright (c) Golf222.com. All rights reserved. No part(s) of this information may be reproduced, stored in a retrieval system, or transmitted in any form or by any means - electronic, mechanical, photocopying, recording and otherwise - in whole or in part, without the express written permission of the copyright owner.