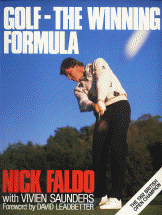 Golf - The Winning Formula
By Nick Faldo with Vivien Saunders

In this impressively detailed survey of how a top professional plays the game, Nick Faldo reveals the subtleties of techniques that have made him perhaps the most awe-inspiring player on today's world tour.
Flado here discusses his tournament-winning technique with extraordinary clarity and precision, buttressed by over 400 stop-action photographs of each stage of the Faldo swing. Every aspect of the game is covered, from the drive to the finesse on the green. Tips for more effective practice, and notes on the vital mental side of the game, help round out this generous guide to the technique of a modern master.


Back to Books Main Page¡@
Copyright (c) Golf222.com. All rights reserved. No part(s) of this information may be reproduced, stored in a retrieval system, or transmitted in any form or by any means - electronic, mechanical, photocopying, recording and otherwise - in whole or in part, without the express written permission of the copyright own